News & Discoveries
Chronology A Snapshot of Rufus Ingalls' Life 1818-1893
A New America
1818 - 1845 Maine, West Point and the Frontier
Mexican War New Mexico
California and the Gold Rush Desertions, scurvy and W.T. Sherman
Oregon Territory 1849 Ingalls builds Ft. Vancouver
The West Joins the US
Steptoe Expedition and Brigham Young American history changed by one topographer's death in Utah.
The Pig War George Pickett and the disagreement with Britain.
Civil War
Ft. Pickens, Florida and the start of the War for Southern Independence Lack of communication may have changed the start of the war. Ingalls was on a ship originally ordered to Ft. Sumter. Lincoln's 'secret' mission sent it to Florida.
The Army of the Potomac Montgomery Meigs and Herman Haupt
1864 Northern Virginia
1865 Petersburg and Appomattox
An Army Needs Shoes and Horses
City Point, Virginia The largest port in the world built by Rufus
A Different America
Peacetime Army
QM General
What Do You Do After 40 Years of Adventure?
Friends and Acquaintances
Details
Photos An Assortment of Photos from The Library of Congress
Links
Rufus Ingalls of Denmark, Maine saw America grow and change as no one in his era did, with his own eyes. A glance at the maps of the country in 1820 and 1900, on the right, show how dramatically the size and shape of the United States would change during his lifetime. He would see and be involved with a large part of that change.

Rufus displayed amazing skill at managing and transporting the vast supply network that looks like the new 'just in time' methods, with a few addtionial problems that the modern logistics managers do not have to deal with. Things like burnt bridges, or raiders, or 4,000 horses with hoof and mouth disease. The trials and situations presented to him often seemed insurmountable, yet he was always ready to accomplish the impossible without complaint.

The people, places and things that Rufus Ingalls experienced could fill a huge volume. Grant, Pickett, Sherman and Longstreet, to name a few, were among his classmates at West Point. Brigham Young, Kit Carson, Ben Holladay, and Abraham Lincoln are some of the more famous people that he would know. New Mexico, California and Oregon were faraway, barely explored places far beyond the frontier when he was young. Disease, discomfort, and numerous hardships were an everyday reality during most of his life.

The conquest of New Mexico was accomplished without only a few shots being fired. The Pig War's only casualty was a pig. The Civil War casualties and the toll on the Indians would be staggering during his career. The events during his lifetime had a tremendous impact on the world we live in today. You can't answer the 'what ifs' in history. But his is a story that has a lot of them at critical times.

Quartermasters supply the army and in his duties as a Quartermaster he rafted logs to build quarters in the new Oregon Territory and built the huge City Point depot near Petersburg in a matter of days. In his 40 years in the Army, only words of praise can be found attached to his name.

Ingalls was at every major battle of the Army of the Potomac. Usually with his closest friends on the opposite side. He was on board a ship that was originally ordered to Ft. Sumter in early April 1861 and was in the room during the surrender at Appomattox Court House. He was a frequent guest at the White House during Grant's administration. George Pickett even named his dog 'Rufe'.

Rufus Ingalls would become a Major General and the Quartermaster General of the Army in his career.

Ingalls street in San Francisco is named for him. Yet, his home state has nothing to commemorate this great American.

I have found Rufus Ingalls to be an interesting part of American history, I hope you will too.

Larry Davis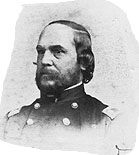 General Rufus Ingalls



Meade's Staff
The Army of the Potomac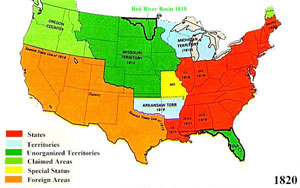 The US in 1820
Maine Becomes a State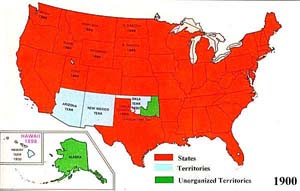 The US in 1900